This Woman Has Diverted 60,000 Plastic Bottles From Landfill. Here's How.
ENTREPRENEUR BRIANNE WEST NEVER ASPIRED TO WORK IN THE BEAUTY INDUSTRY.
What she did want however was to, "save the world from plastic waste," a feat she is well on her way to achieving.
In New Zealand alone, 50 million plastic bottles that once contained shampoo and conditioner end up in landfill or at recycling facilities.
Although some plastic bottles are recyclable, only one in five people consistently recycles their personal care bottles. More than 80% of these recyclable plastic bottles will end up in landfill. Evidently, plastic packaging has long been a hard-to-avoid accompaniment of personal care products. We can attempt to avoid plastic in our beauty routine by shopping at bulk stores or making our own products at home, but Brianne has a different solution (one that seriously benefits the time-poor among us).
By removing water from her line of body and hair products, Brianne West has managed to create a range of completely plastic-free body products. Her company 'Ethique', has so far prevented 60, 000 bottles from getting chucked in the bin, with the aim of getting this figure up to a million by 2020.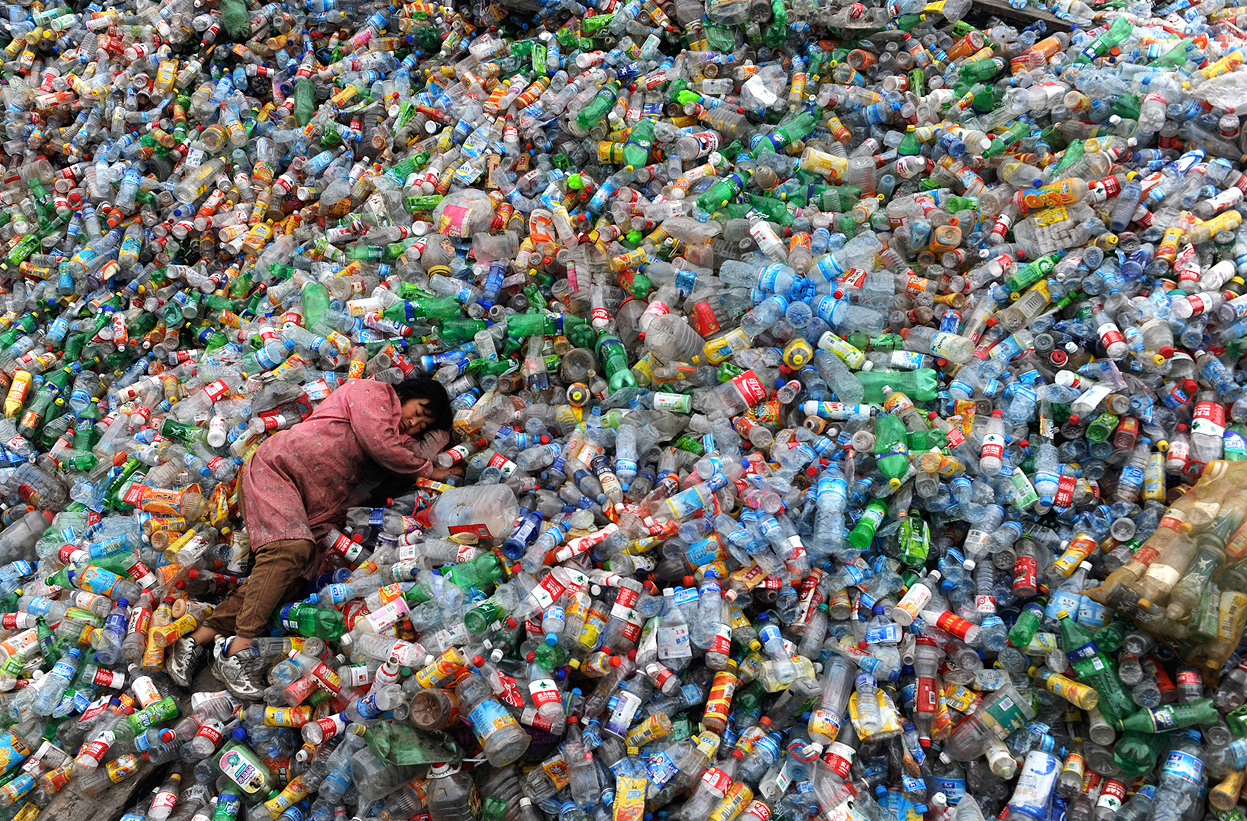 In New Zealand alone, 50 million plastic bottles that once contained shampoo or conditioner are discarded.
Solid products = solid gold for the environment
When you think about it, West's removal of water from her 'Ethique' products seems like a no-brainer. The average shampoo or body wash contains up to 80% water! A conditioner is almost 100% water. West wondered why we'd put water in shampoo when there's already water in our shower. "The more I thought about it, the crazier it seemed to me that we pay gobs of money for all that water packaged in plastic. It's far more logical to simply wrap up what makes a shampoo, conditioner, moisturising lotion, body wash, shave cream, or whatever, and then use it with the water that's already in your shower." Brianne told Forbes.
Brianne formulated shampoo, conditioner, and other body products (including pet shampoo) in a solid form in her kitchen in New Zealand whilst studying at university. After attracting the highest number of female investors in crowdfunding platform 'PledgMe's' history, Brianna secured enough funding to take 'Ethique' from the kitchen to its very own carbon-neutral lab.
"THE MORE I THOUGHT ABOUT IT, THE CRAZIER IT SEEMED TO ME THAT WE PAY GOBS OF MONEY FOR ALL THAT WATER PACKAGED IN PLASTIC. IT'S FAR MORE LOGICAL TO SIMPLY WRAP UP WHAT MAKES A SHAMPOO, CONDITIONER, MOISTURIZING LOTION, BODY WASH, SHAVE CREAM, OR WHATEVER, AND THEN USE IT WITH THE WATER THAT'S ALREADY IN YOUR SHOWER."
– BRIANNE WEST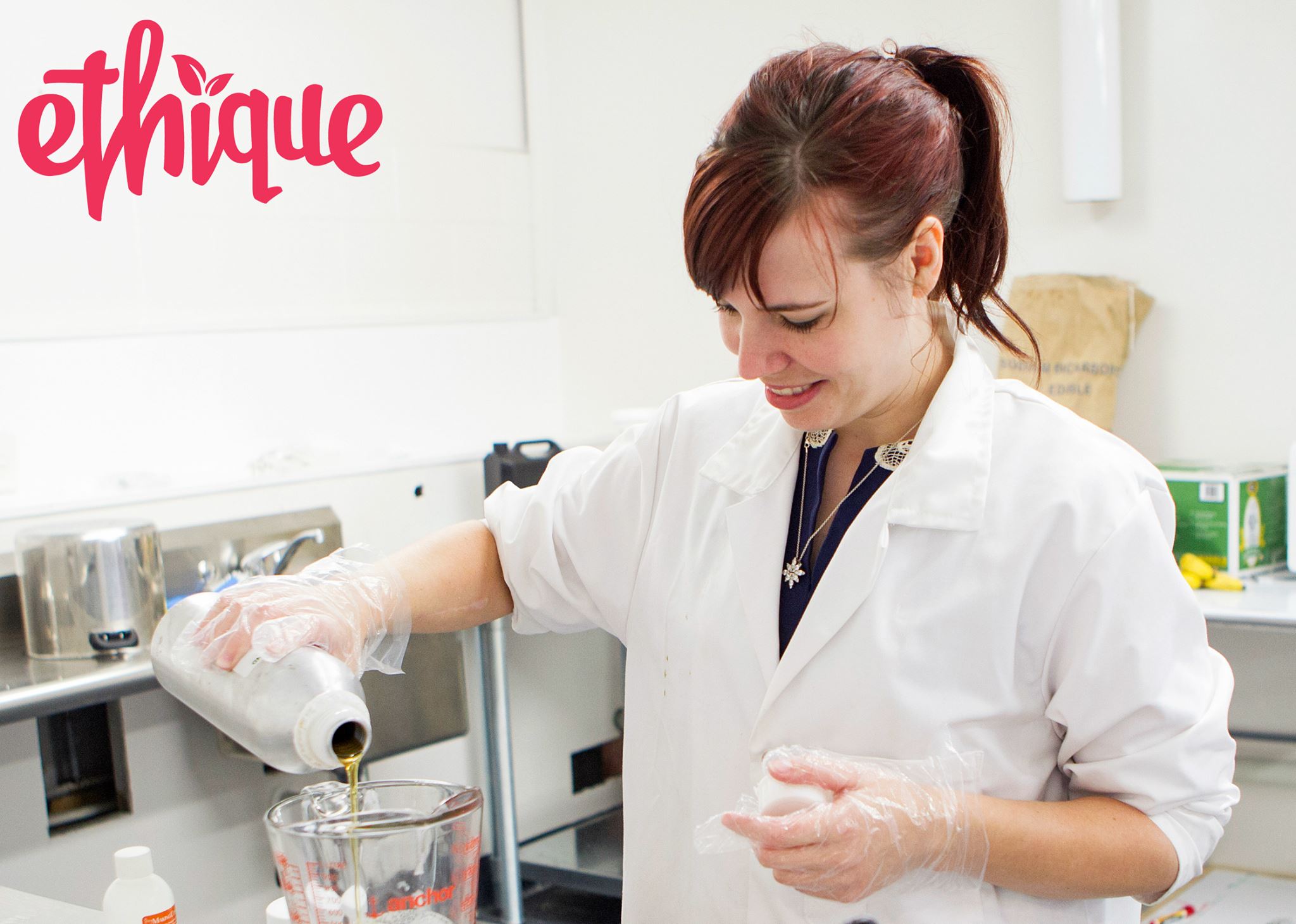 Image caption: Brianne in the Ethique lab formulating new plastic-free products! Img source: Facebook
Ethique products are in a solid bar form so they not only use zero-plastic, but they last three to six times longer than those in liquid form as they're super concentrated. The bars are created from completely natural ingredient and wrapped in biodegradable packaging that can be popped straight in the compost. Ethique products are cruelty-free and carbon neutral and tick all the boxes when it comes to sustainability. Because of this the company is rated as New Zealand's most sustainable business.
Ethique is proof we can all use our skills for good
Innovation and imagination is key to tackling the ever-growing problem of plastic pollution. Entrepreneurs like Brianne who think outside the box are paving the way for a future in which businesses don't harm the environment, but instead enhance it.
Prior to starting Ethique, Brianne founded two companies. They didn't have any social purpose, and because of this Brianne quickly became unenthused. By starting Ethique, Brianne says she is able to have, "a real impact on the world around me and the bigger my company grows, the bigger the impact we will have."
I get incredibly excited and inspired when I learn about people who are creatively finding solutions to environmental problems worldwide, and even more so when I realise they're total girl bosses. Women have immense power when it comes to creating change, not only from a business perspective but also within our own lives. Brianne is working towards her goal of reducing plastic waste on a larger scale, but each of us can easily do this on a smaller scale in our own lives. By creating planet-friendly habits, such as bringing your re-usable cup to work and skipping the coffee in a disposable cup, we can all join Brianne's fight to "save the world from plastic waste!"